All meals whilst your child is in attendance are included in our prices. We employ a dedicated Nursery Cook who is trained in Nutrition and qualified in Food Hygiene and source ingredients from our local butcher and greengrocer. We are very proud to hold a 5 star rating with the Food Standard Agency. Our menus are healthy and delicious, usually on a 3-weekly basis. Our cook regularly reviews the menu to take into account seasonal changes and children's preferences. We will frequently add in culturally different meals to match the families that we have in the setting, and we welcome your input with this. Research shows that children benefit from 5 portions of fruit or vegetable per day, so this is worked into our meal and snack menu. Children enjoy breakfast between 7.30am-8.45am, a freshly prepared 2-course hot lunch at 11.30 and a 2-course Afternoon Tea at 3.30pm. We also provide mid-morning and mid-afternoon healthy snacks.
Our menu is guided by Early Years Voluntary Food and Drink Guidelines for England - which can be found in our Parent Area or by clicking here.
Funclub Holiday Club - To keep our Holiday fees as low as possible we ask that you provide a packed lunch for children in the Funclub. Breakfast and Snack Tea are provided.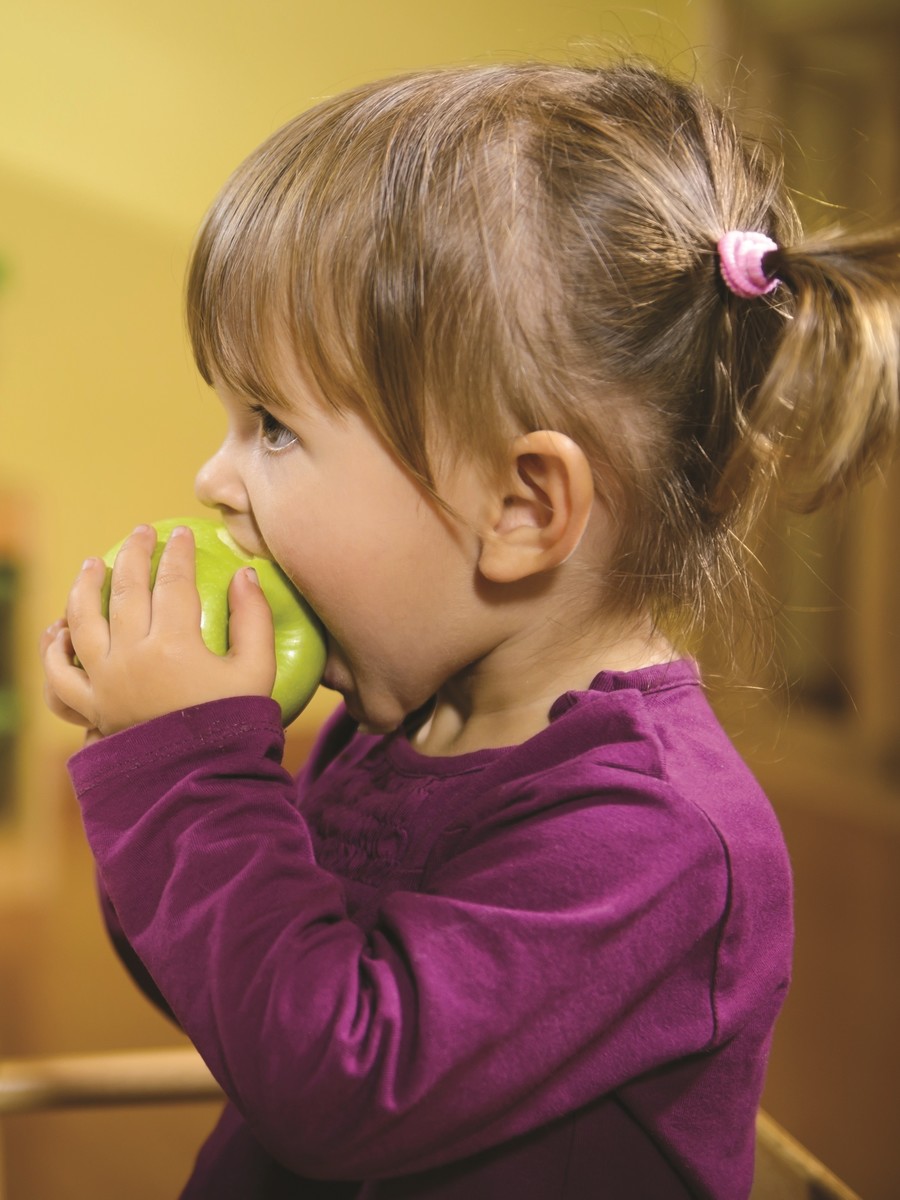 We ask that you supply your preferred milk for your baby. Please do not pre-make your babies bottles as they can harbour bacteria, just bring along the bottles your baby prefers and the formula milk and we will prepare each feed as and when required. Breast milk does not harbour bacteria so you can express and bring the bottles pre-prepared, or even frozen, if you wish.
Your Key Practitioner will work alongside you as your baby is weaned, introducing a range of foods in accordance with current weaning guidance, prepared by our cook. We follow best practise guidance by avoiding pre-prepared baby jars and packets.
Dentists recommend tooth brushing after meals, and we encourage this at Little People. Please bring along a toothbrush and toothpaste which your child can keep at Nursery in their own pot, the children enjoy brushing along to the 'brushing song' with their friends.
Our Healthy Eating Policy also follows guidance in Healthy Drinks and children are offered a choice of milk or water at snack and meal times, and fruit juice is on offer with Breakfast. We work closely with our local Children's Centre who can help families who are unable to provide tooth cleaning products due to financial hardship.