Every year at our Annual Christmas Party - we award Pride Awards to our lovely team for special things they have done throughout the year, or the impact they have had on colleagues, children and families.
All parents, children, staff and friends are able to vote for as many of our team as they like. Voting closed on 20th November 2018. Prizes are awarded at our Annual Christmas Party - watch this space for the 2018 Results!
Here are a few images from last years event...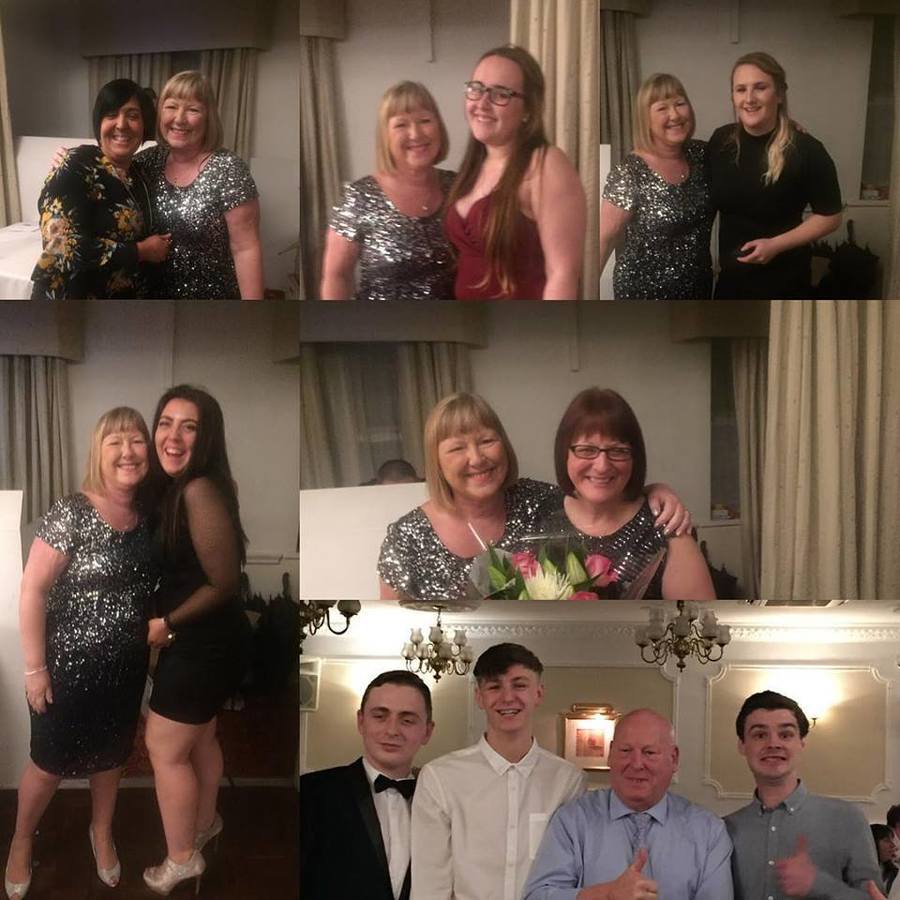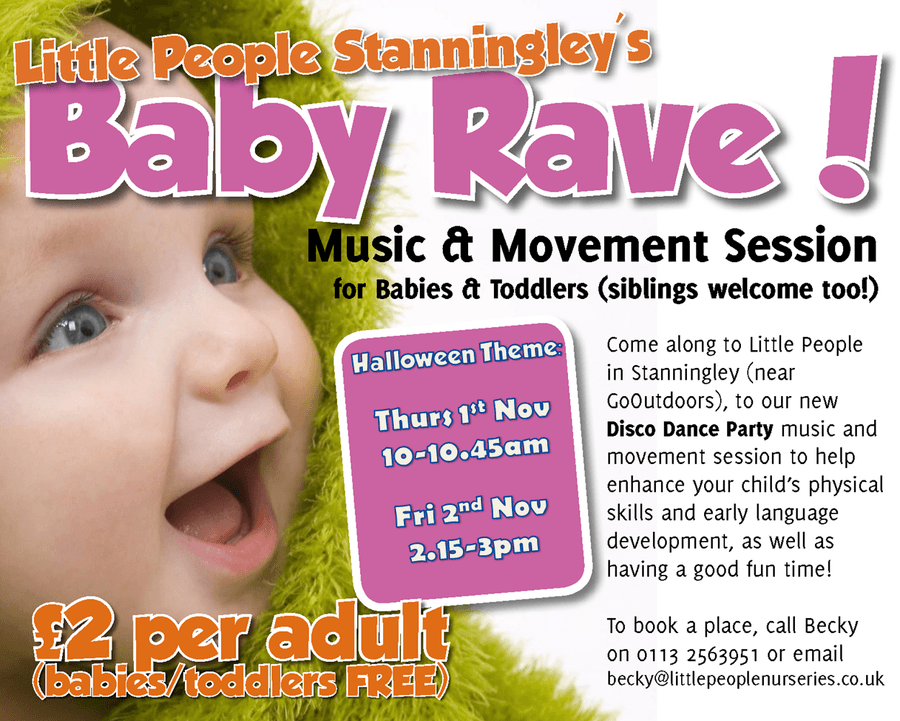 Come one, come all to our Fabulous Open Day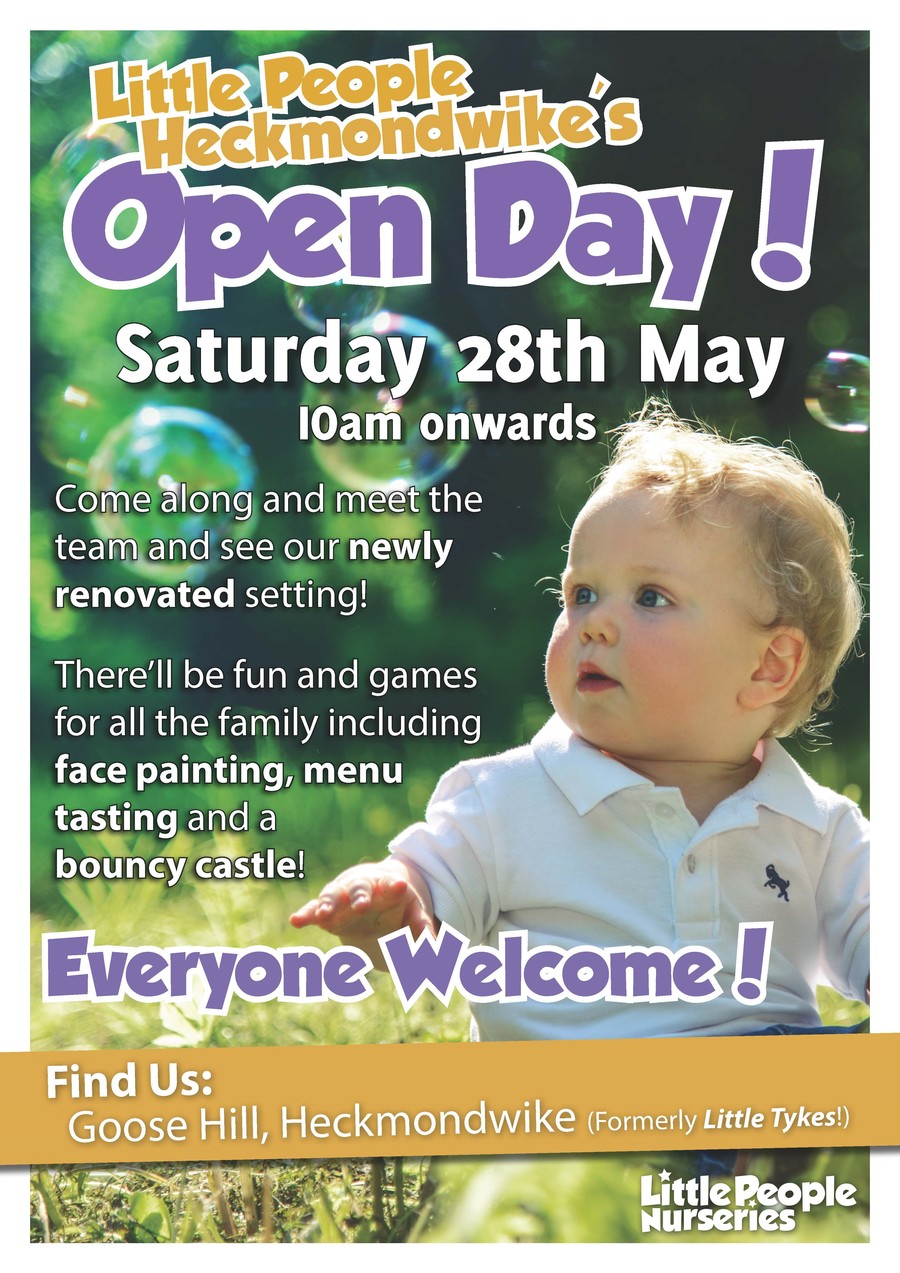 Our annual tradition is here again! In all the eggcitment of our anticipated parade our Little People have brought in all of their eggcellent feathered and bunny eared creations to show off to each other.
Everyone here at Little People Nurseries would like to wish you a cracking and chocolatey Easter!
(Sorry about the egg puns, we're just having a yolk)
Little People Heckmondwike is here!
Little People Nurseries are pleased to announce the opening of our newest setting at Heckmondwike. The Nursery (formally known as Little Tykes) will be run during its infancy by Vicky before be taking over by the new manager Hannah. If you'd like to see some more information about the addition to the family please Click Here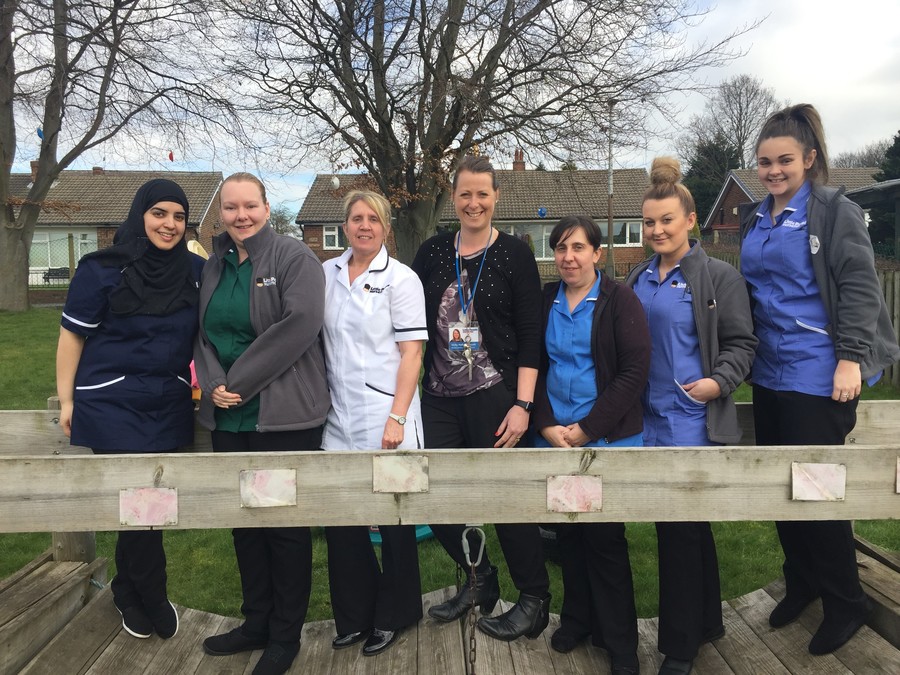 We have said goodbye to the class of '14 in our schoolrooms across Little People Nurseries. At this joyful and emotional time for some of our staff, parents and Little People, we would like to say good luck to all those leaving us to go to big school. We wish you the best for the future!!!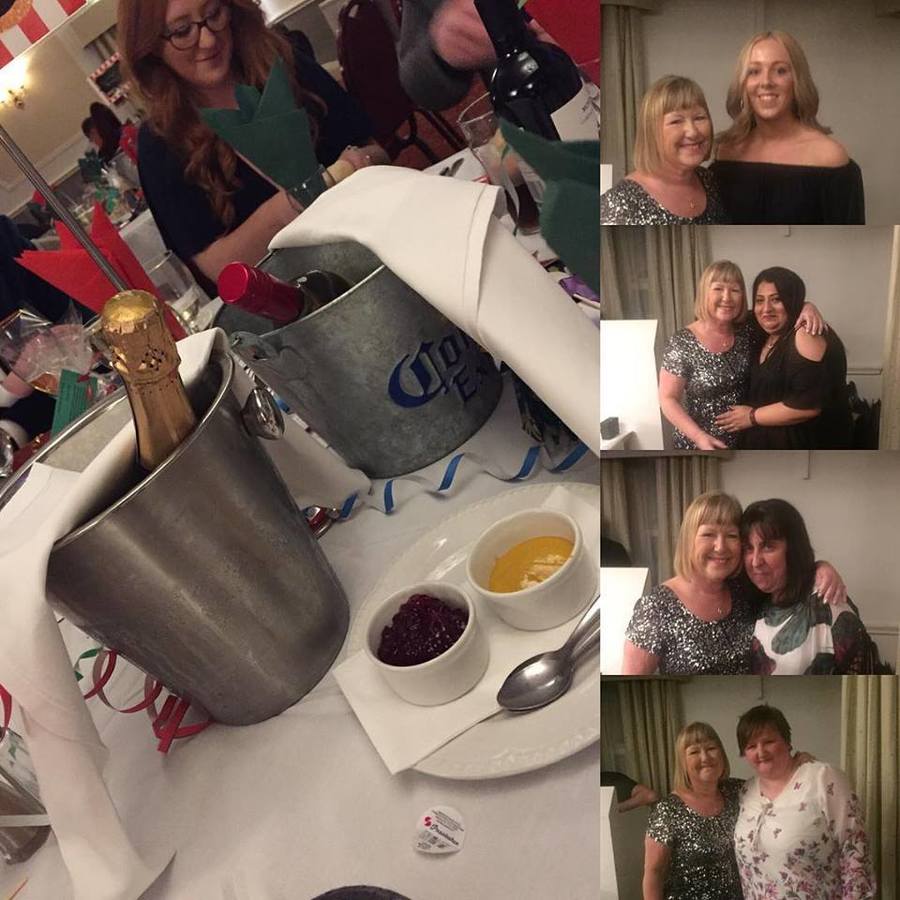 Is it a bird? Is it a plane? No! It's all of our Little People dressing up as Superheroes. This year we have been donning the masks of our favourite superheroes to save the world and raise money for Cash for Kids. At our Bramley setting we had a visit from the dynamic Batgirl and Elsa.
Please Click Here for more information about the great work done at Cash for Kids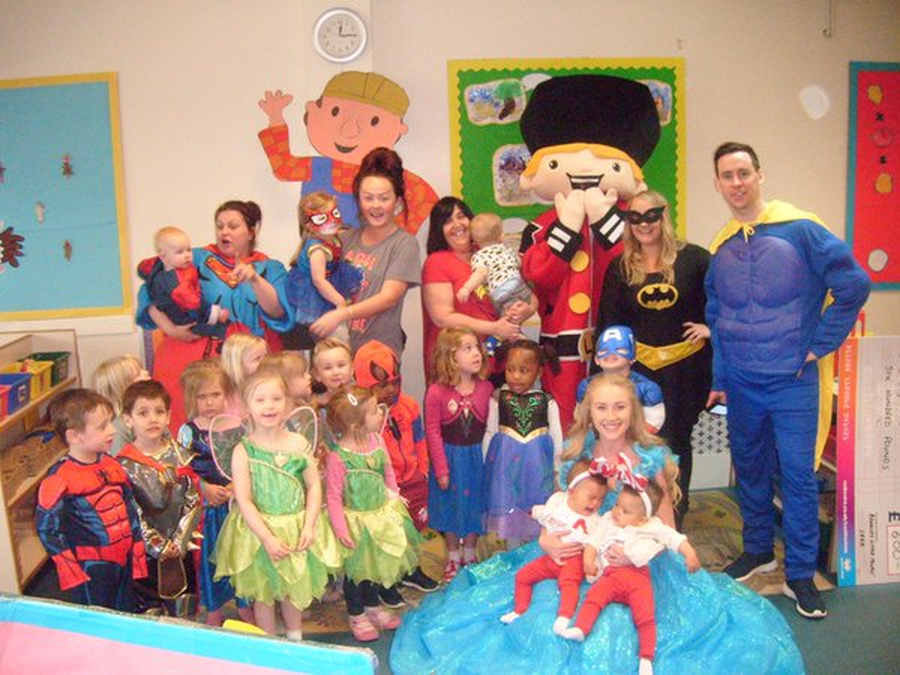 Our Magnificent Manager and Super Staff Challenges
Chris, Ben and Becky have been raising money for Children's Heart Surgery Fund. Chris and Ben took on the challenge of the Yorkshire 3 Peaks by walking over 24.5 miles. While our super Stanningley manager, Becky, tackled the Leeds 10K. Together they raised over £600!!! Thank you for supporting them.
We our very proud to be supporters of the Children's Heart Surgery Fund for all the work they have done to help our own Heart Warrior at Little People Stanningley, Edith, the daughter of our Stanningley manager Becky, who has undergone and conquered open heart surgery.
If you would like some more information about the amazing work they do please Click Here.
Little People Stanningley have been taking part and celebrating in the Yorkshire Le Grand Depart. Many of our Little People have been getting on their bikes to show off their support! Bravo à tout le monde.
Our very own Marguerite got the chance to speak to The Mayor of London, Boris Johnson, about the amazing Farsley Community Charity Calendar. Boris travelled back to London with his very own copy and a kind message of support! Cheers Boris, we hope you enjoyed the calendar! If you would like to read about the Farsley Community Calendar please Click Here.
Show Your Colours for England
All of our staff and Little People have been wearing their favourite football shirts and cheering on England in the 2014 FIFA World Cup by taking part and raising money for Showing Your Colours run by Cash for Kids. Come on England!!!
Raising Funds for Cash for Kids
On Friday 2nd May children at Little People Nursery enjoyed a Superhero Day to raise cash for underprivileged children with the Radio Aire's Cash for Kids campaign. The children, aged from just 6 months to 5 years, enjoyed a range of fundraising activities throughout the week, topped off with a visit from the Lord Mayer to collect the cheque for Radio Aire.
Nursery Manager, Linzi, says "How exciting to receive a visit from the Lord Mayor, he spent time with the children, visiting each age range, and was really interested in the activities we did throughout the week to raise money. We are so pleased to be involved with the Radio Aire Cash for Kids Campaign, Lisa and her team do a fab job of raising funds for so many children within our community who are in need."
Fundraising has continued throughout the month and Little People are extremely proud to have broken the £1000 barrier, with a few sponsor forms still coming in.
Twitter followers received regular updates with pictures of the children and staff's wonderful outfits.
Follow for updates @LPNurseries @CashforKidsAire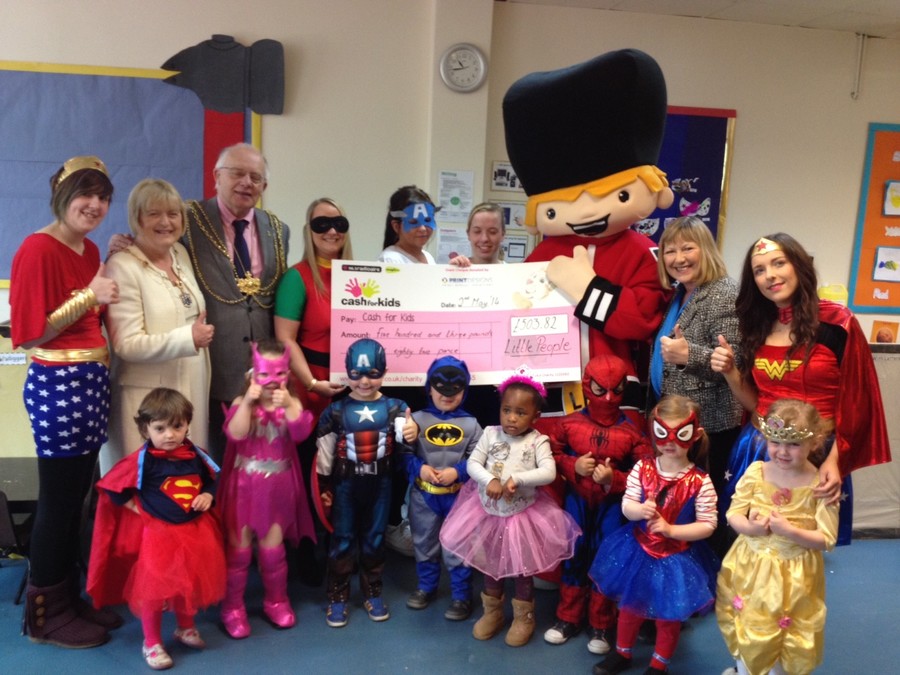 Birthday Garden Party - Sat 10th May '14
Despite the odd bit of rain (and the odd torrential downpour!), there was more than enough sunshine for our Birthday Garden Party to be a huge success.
We saw plenty of staff and "Not-so-Little-People" from days gone by and plenty of fun was had by all.
The team at Little People have been joining in on the fun at the annual Farsley Festival with balloons, sweets and our Grand Depart themed spot the difference. Please click here to have a go yourself at our amazing spot the difference.
Superhero Day - Thurs 1st and Fri 2nd May '14
Joining together to raise money for the Radio Aire "Cash for Kids" campaign!
Linzi, Katie and Becky, the managers of our Bramley, Farfield and Stanningley Nurseries pulled together to make a Superhero week to remember and raise money for this worthy cause. We had bake sales, dress up days and sponsored events in childrens' rooms topped by a visit from the Lord Mayor to collect our Cash For Kids cheque for over £500 (so far! donation are still coming as we speak!)
Thank you to our lovely staff team and parents for joining in the fun so enthusiastically and making it possible for our Little People to be Superheroes for the day!
Stanningley Celebrates 25th Anniversary - May '14
Wow! 25 years providing childcare is quite an accomplishment. To celebrate, owner Marguerite, and her team are throwing a Garden Party on Saturday 10th May.
Please feel free to join us!
We'll share more news after the event.